Heart Crystal Glass Paperweight/Inspirational Gifts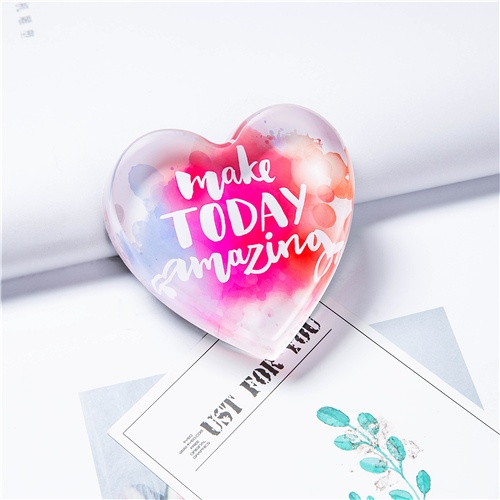 This classic heart-shaped paperweight is made of high-quality glass or crystal. The base is made with a beautiful print and covered with a black anti-slip felt. This printed glass paperweight is a beautiful decoration for office desks, bookshelves, and dressers.


A beautiful decorative paperweight is a good gift option for different occasions, like birthdays, weddings, Valentine's Day, Christmas, and Thanksgiving Day.


The crystal glass paperweight is a good product for many business types, like home decoration businesses, gift wholesalers, gift brands, gift distributors, amazon sellers, online gift shops, corporate gifts, art-driven gifts, tourist gift businesses, and museum gift businesses. The base can be printed with your customized artwork, engraved with other types of content, like logos, or hot-stamped with custom designs.


We are the leading manufacturer of handmade alloy gifts and crystal glass gift items in China. Categories range from home gifts, tourist gifts, souvenirs, museum gifts, wedding gifts, and promotional gifts to fashion accessories.


Our paperweights come in a variety of shapes and colors, so you can find the perfect style to match your business need. We can also customize designs and make private labels. We also carry other gift items, so be sure to contact us for a consultant. Let us help you find the perfect products for your business.


Contact us now!
Email: [email protected]
Wechat/Whatsapp: +86 18966016931